AS a result of impulse buying a lot of 16m x 2m wide cat netting on eBay I am now enclosing the front verandah.
So I thought I would take photos as I go so others can benefit from my mistakes.
The verandah is 10.35m long and 1.8 wide. Saturday I went to Bunnings and purchased wooden strips, Ramset 5mm x 35mm nylon anchors to affix them to the brick wall, and shade fix thingys you use to attach shadecloth. I came unstuck, though, when I tried to fix the netting to the bargeboard with the shadecloth fixers. The bargeboard is too hard, the prongs on the fixers just bent. So I will have to buy 4 more strips of wood and drill them into the bargeboard, then attach the netting to the strips. SIGH! Why ids it always more difficult than we expect?
Photo 1:
The length of the verandah showing the end, where Warwick is replacing 2 bricks that had fallen out of the parapet/railing. I have yet to do the wooden strips along the top of the wall and up the front wall behind Warwick (who is in his best gardening clothes, LOL!).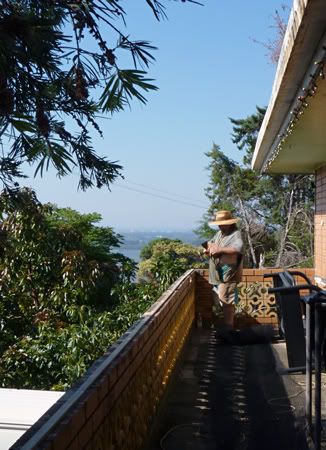 Photo 2: Detail of the front corner of the verandah showing the strips. To attach them I drilled holes in the wooden strips first, using a wood bit, after carefully measuring so I would not end up going into the mortar between the bricks or being too close tot eh edge of a brick. Then I changed to a masonry bit and drilled through the wooden holes and into the brickwork. Then I hammered in a nylon anchor. It was easy but fiddly and time consuming.
Photo 3: the opposite end of the verandah to where Warwick was working , showing the netting being attached to the strip up[ the wall of the house. The shadecoth fixers are great, they have 4 sets of 2 prongs which you can position over the knots in the netting meaning (hopefully) it will not slip.
I was going to just tie the end of the long side and the corner front with cable ties, but I think it will need more support, so am going to look into getting anchors bolts that can be tightened and putting a cable down at each corner. Then I can tie the netting to the cable.
Edited by Analog6, 16 November 2009 - 05:54 AM.